---
Redeemed by Christ, wife, daughter, sister, a mommy, homemaker, crafter, quilter, web designer, do-it-yourselfer, a bit of a world traveller, website bookmark junkie. I have a hard time throwing away stuff- there is always some way to reuse it, right? Trying to figure out the meal planning... house cleaning... raising wee ones in the faith... the mother and wife thing at the same time. I am blessed and hope to be a blessing to others. I am eager for others to know the hope that I have in Jesus.
---
Recommend
---
Radio
Made alive in Christ...

As for you, you were dead in your transgressions and sins, in which you used to live when you followed the ways of this world and of the ruler of the kingdom of the air, the spirit who is now at work in those who are disobedient. All of us also lived among them at one time, gratifying the cravings of our sinful nature and following its desires and thoughts. Like the rest, we were by nature objects of wrath. But because of his great love for us, God, who is rich in mercy, made us alive with Christ even when we were dead in trangressions- it is by grace you have been saved.
Ephesians 2:1-5

---
Adventures in Odyssey

An exciting radio drama that I grew up with... and it has been so much fun to rediscover it with E. We highly recommend it for all ages. Great 1/2hr dramas packed with life lessons from a Christian perspective. It's created by Focus on the Family.
---
Money
Most people believe that money brings happiness, so they always want more of it. But money does not bring happiness. Money and the things that money can buy do not produce the good life. The good life is found in a relationship with Jesus and in using what God has given us to build His kingdom. Through the working of the Holy Spirit, we will hold the things of this world loosely and focus on things that are eternal. (PK- www.conqueringcancerthroughfaithinchrist.com)
---
A hope
Proverbs 22:6

New International Version (NIV)

6 Start children off on the way they should go,
and even when they are old they will not turn from it.
---
Stewardship Thought for the Week
In every church, there are people who continually rise to the occasion to get the work done. Although God calls each of us to follow and serve Him, many of us are much more concerned about our own lives and goals than assisting in the Lord's work. If we focus on "I, me, mine, and myself," we take care of "number one" to the exclusion of helping and serving. In our prayers, we should be asking God to grant us hearts that want to serve, and we should be asking Him, "What do You want to achieve through me today?" (PK- www.conqueringcancerthroughfaithinchrist.com)
---
Daily

"Anyone can carry his burden, however heavy, until nightfall.
Anyone can do his work, however hard, for one day.
Anyone can live sweetly, patiently, lovingly, purely, till the sun goes down.
And this is all that life really means."
Robert Louis Stevenson

Take therefore no thought for the morrow... (Matthew 6:34)
Give us this day our daily bread. (Matthew 6:11)
...As thy days, so thy strength shall be. (Deuteronomy 33:25)

I found this combination in Passion & Purity by Elisabeth Elliot. So many good things in there about trusting God. This combination struck me... especially as I feel like some days I can't make it (sweetly, patiently, lovingly, purely) until bed time... but reading those verses with that quote... cultivated new life within me. There is a website called My One Word. It is where you choose a word, one word, that you are led to by God. And that word is your focus for the year. I have found mine... "daily". Living each day as the words quoted above describe... living this day, not thinking about yesterdays or tomorrows, but about today.

Then he said to them all: "Whoever wants to be my disciple must deny themselves and take up their cross daily and follow me."
Luke 9:23 (NIV)
---
Storms
I found this today as I was looking through my photo albums. I wrote this down while on Youth Encounter. The theme that year was Calm the Storm- based off of Luke 8:22-25. The Luke's account reads as follows:
One day Jesus said to his disciples, "Let's go over to the other side of the lake." So they got into a boat and set out. As they sailed, he fell asleep. A squall came down on the lake, so that the boat was being swamped, and they were in great danger.
The disciples went and woke him, saying, "Master, Master, we're going to drown!"
He got up and rebuked the wind and the raging waters; and the storm subsided, and all was calm. "Where is your faith?" he asked his disciples.
In fear and amazement they asked one another, "Who is this? He commands even the winds an the water, and they obey him."
I was having plenty of "storms" that year on team. I quailed in the presence of them. I ran to God asking him to rescue me, fearing that I would be overcome. How silly I am, just like the disciples. Where is my faith? I ran to God and told him how big this storm was that I was dealing with. Ha! As if he didn't know. He knows, he always knows. And yet, he wants me to come and to tell him my storms. He cares and understands. But then he wants to tell and remind me of a few things too. I am His child. I am his and he is mine. He created the universe. He created you and me. He has conquered my sin- as well as the sin of the WHOLE world. He defeated the devil and all his demons thru the death and resurrection of his son. My eternal destination is sealed. Nothing can separate me from him. He is in control. No problem is too big for him... and while I remain in him and trust in his word- those problems have no real threat. So I can stand in the face of torrents, I can turn to them instead of cowering and say- "Let me tell you about my God and why you have no power over me..."
---
First Word
---
God prospers us not to raise our standard of living, but our standard of giving.
~ PK- Stewardship Corner
---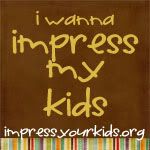 A deep drink... highly recommend this.


---